About South of Nowhere
South of Nowhere is a teen drama television series created by Thomas W. Lynch. Airing from November 2005 to December 2008, the show followed the lives of the members of the Carlin family as they adjust to moving from Ohio to Los Angeles, California. One of the main focuses include the relationship between Spencer and her bisexual friend, Ashley. It was the first series on The N (now TeenNick) to deal with such a subject relating to any main characters, and the first television show ever to have gay teenagers as the top-billed characters.
Featured Article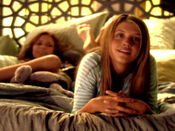 "Secret Truths" is the two-part pilot episode of the American teen drama series South of Nowhere which premiered on November 4, 2005 on The N in the United States. It was written by series creator Thomas W. Lynch and directed by Donna Deitch. The episode introduces three siblings—Spencer, Glen and Clay Carlin—who start at a new school after their family moves from a small town in Ohio to Los Angeles.
Lynch conceived South of Nowhere from the idea of a teenager's coming out after hearing that his friend's son had come out to his parents. Lynch pitched the premise to The N and was commissioned to write the pilot. After the casting process was complete, the episode was filmed in October 2004, but when the show was picked up for a full season, Lynch decided to recast many of the characters and the pilot was shot again in July 2005 with the new cast. The premiere of the episode was promoted with branded MetroCards that were handed out to teenagers in Manhattan. Generally, critics reviewed the pilot positively, particularly commending its treatment of current social issues; however, some critics found the show's introduction of these issues to be forced and inauthentic. Read more...
---
Recently featured:Ashley Davies
How to participate
To write a new article, just enter the article's title in the box below.
Not sure where to start?
If you are new to wikis, check out the tutorial and feel free to test any edits in the Sandbox.
You can also use the Manual of Style as a guide for creating consistent and properly-formatted articles.
Affiliates


---