The second season of the teen drama television series South of Nowhere originally aired between September 29, 2006 and December 22, 2006 on The N in the United States. The season consisted of thirteen episodes all airing on Friday nights.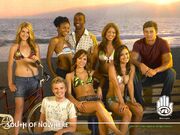 It's a new day. Ashley and Spencer wake up from their first night together fully committed to each other, but when Ashley's world suddenly shakes apart, she finds herself pushing Spencer away again. Aiden, meanwhile, wakes up next to Madison wondering what he got himself into, then finds a way out. Glen faces the first days after a debilitating injury, while Clay copes with life after meeting his birth mother.
| | |
| --- | --- |
| Written By: | Jonas E. Agin |
| Directed By: | Bethany Rooney |
| Webisode: | Period |
Ashley's only had a sister for a few weeks, and she's already sick of it. Things get ugly between her and Kyla, and a VH1 special about their dad makes them even worse. and the fact is that Aiden's crushing on Kyla can't be helping much either.
Written By:
Chad Fiveash
James Patrick Stoteraux
Directed By:
Bethany Rooney
Webisode:
Sleeping Lions
Spencer's freaked out by Ashley's obsessions. It's bad enough that she's totally preoccupied with Kyla and Aiden's relationship, but now she's pressuring Spencer to come out to her family. Clay's kind of freaked too' because Chelsea might be leaving forever.
When a hate crime erupts around Spencer at school and Glen's rage over her sexuality boils over at home, Spencer finds herself caught in the middle of violent intolerance. Meanwhile Kyla pushes aside her relationship with Aiden, just when Madison's pushing to take her place.
Clay's past rips into his life when his birth mother moves into town. As he's reeling, Chelsea tells him a secret that could tear apart his future. Spencer has problems with her own past when an old friend from Ohio brings out a side of her that Ashley's never seen. Glen, meanwhile, can barely handle the present as his dependence on pain pills gets worse.
| | |
| --- | --- |
| Written By: | Nancylee Myatt |
| Directed By: | Bethany Rooney |
| Webisode: | Alone Together |
While Paula and Aurthur go out of town Glen decides to throw a party. It gets out of hand and they stop the party. Meanwhile, Glen gets arrested for drugs and Madison show Aiden the real reason why Kyla went back home for the weekend. As Paula and her husband come home due to Glen, Paula goes up the stairs and walks in on Ashley and Spencer in the middle of having sex. Paula freaks out from the shock and pulls Ashley out by her hair while Ashley and Spencer fight to be together.
| | |
| --- | --- |
| Written By: | Jonas E. Agin |
| Directed By: | Bethany Rooney |
| Webisode: | Desperate |
Paula can't deal with the fact that her daughter's in love with another girl. When she cuts off Spencer from Ashley, she unintentionally drives Spencer away from her family. Aiden tries to bond with Ashley over their relationship problems, but Madison would prefer he lean on her.
Written By:
Chad Fiveash
James Patrick Stoteraux
Directed By:
Robert Townsend
Webisode:
Roadside Attraction
With life getting out of hand at home, Spencer and Ashley hit the road and try to escape. As they head out of town, Kyla heads back in to find Aiden waiting to confront her about her lies. And when Chelsea's secret pregnancy is discovered, she picks up sympathy from the last person she expects.
| | |
| --- | --- |
| Written By: | Paige Bernhardt |
| Directed By: | Robert Townsend |
| Webisode: | Hearts |
Arthur looks for a way to bring his shattered family back together, so Glen suggests a time-tested way for healing emotional wounds: an all out paintball war! With Spencer caught on the family battlefield, Ashley spends more time with Aiden. He's still "just friends" with Kyla, thanks to Madison, who's about to take a full-on karma smackdown.
| | |
| --- | --- |
| Written By: | Jenelle Lindsay |
| Directed By: | Nancylee Myatt |
Spencer and Ashley have been together for months, and they couldn't be happier. Or could they? When an old tape of Ashley and Aiden surfaces, it looks like she might have been way happier back then. Meanwhile, Clay and Chelsea both come to a decision about the baby. Too bad it's not the same decision...
Aiden's feeling the pressure of the different women in his life. Madison, Kyla, Ashley, and Spencer all want something from him, and it seems like to make one of them happy, he has to hurt another. His friendship with Ashley's driving her and Spencer apart, and there's so much estrogen after him that Aiden finds himself turning to the one person he can't stand.
| | |
| --- | --- |
| Written By: | Nancylee Myatt |
| Directed By: | Rose Troche |
| Webisode: | Tonight |
On prom night, Clay and Chelsea look for one last evening of happiness, while Glen goes to drastic measures looking for a purpose to his life. Madison's losing her marbles, and Aiden might lose all the women in his life, thanks to one shocking secret.
Production
Edit
Reception
Edit